CARNAGE.POLL
Q)
You can only vote once you have logged in.
CARNAGE.FLYER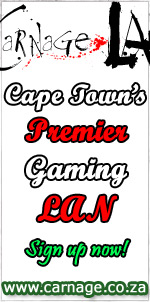 Help CarnageSA.NET by dealing out this digital flyer via email or simply putting it on your website.
| | | |
| --- | --- | --- |
| Event | Total signups | Time remaining |

MAIN WINDOW
Phenom 9700, AMD's 1st Quad-Core CPU
Dark_Angel
print article
20 November 2007
| | |
| --- | --- |
| Today marks a historic occasion for AMD. After delays of more than a year, the company can finally present its new, highly anticipated processor - and not a moment too soon. AMD needs a fresh product. While this CPU was originally meant as a competitor to Intel's Core 2 CPUs, the balance of power in the CPU arena has shifted over the past 18 months. The new processor, dubbed Phenom by AMD, is the first quad-core CPU by AMD and, as the company likes to remind us, the first native quad-core design. | Place mouse pointer over image to pause. |
Comments (6)
for some reason the phenom is still priced high in za. probably cos not many importers have them yet. they think they are exclusive or something while ignoring the fact that the intels are the same price haha. "whoops" the phenoms should be priced about 9% slower than the intels, because thats how much slower they are, and thats how they are priced in USA. (so i've read)
AMD has put a lot of their budget into buying ATI and so they will lag behind intel with processing for a year or two at least. they are focused at delivering full system enjoyment etc (graphics being a part of the equation) AMD is apparently planning to merge CPU with GPU after some years. should be interesting. AMD is planning ahead, thats why they dont look so hot right now.
phenom still isnt powerful enought to compete with the intel quad cores.. hope their prices are Dual Core range otherwise they wont get the sales
Only got around to reading another benchy today. Poor showing, really poor. The BIOS didn't even pick up the cpu properly, and the memory management is up to shit. I think it will be down to pricing. Decidedly mundane, after that monstrous Penryn. Good gawd!
Unfortunatley I'm a fanboy, I feel it drawing me closer
The benchmarks doesnt look that much promising as they clame.. The Q6600 is almost priced the same and the perfomance is still better on the Q6600. Or what do you guys think?
You will need to login to submit a comment.
CARNAGE.19_SEP
SITE STATS
Online
0 Users
19 Guests
Userlist

BIRTHDAYS